Tag: Skiing
by Mitchell Sprinsky on Feb.12, 2008, under Mindless Banter
Contrary to popular New Jersey belief, I'm not dead. Winter has taken hold here in the Rockies and most of my attention has turned to skiing. What can I say? After 43 years of skiing the east, I can't get enough of the white stuff out here. When conditions allow, I also spend some time on the road bike doing a 25 mile loop. Most of the time it's a rough one because wind gusts are around 35 MPH.
Now the cool stuff…
I was elected to the Team Evergreen Board of Directors. For those not in the know, Team Evergreen is one of the largest cycling clubs in the country. A great bunch of people that I regularly ride with kind ofvolunteered me, but I like it. So now I get to do the Triple By-Pass. That's a road ride over three mountain passes from Evergreen to Avon. It's 126 miles and 11,300′ of climbing. So, yes I need to get my butt in shape. Team Evergreen donates all the proceeds of this ride (over $100,000) to charity. That says a lot about an organization!
I was also elected to the Team Evergreen Trailblazers BOD. The Trailblazers are the newly formed 501c3 arm of TE and are responsible for building and maintaining trails in the area. We also put on the Buffalo Creek Epic event.
The band is very popular still and continues to play all over Colorado. You can check out that at the band Website or our MySpace page.
Well, after many years of absence I will be doing thew Kokopelli trail again. Bikerpelli, a local tour operator, asked me to video this and a few other rides. How can I resist? This time I'll be doing the trail in three days instead of five. That should be interesting.
So that's about it. As soon as the local trails firm up, I'll be hitting the dirt again.
See you on the trails!
Comments Off

on An Update
:
Skiing
more...
by Mitchell Sprinsky on Jan.14, 2007, under Mindless Banter
This is the story of a man, his bicycle, and his pursuit of happiness. Well, maybe that's pushing it a bit but happy is a good thing. I usually try to avoid too much sappy self gratifying diatribes in my reports, but I feel the need to take some liberty here. It's also a way to finally rid myself of some ill feelings.
Somehow I found myself after six months of residency in Colorado, on the mountain bike committee of Team Evergreen. This affords me the opportunity to be present with the board of directors and sort of have an in. Now, I never asked for this. I was happy enough to have some people to ride with and avoid riding alone. I would show up at the rides and assume my place in the middle of the pack. Yes, I still took my photos and an occasional video. Somehow along the line I guess I contributed enough to be considered as one who just does that much more for the group. Don't get me wrong, I am honored to be thought of that way. I'll explain why this is so important near then end of this report.
Because I have been an active part, I was invited to the annual party as a major contributor to the club. Just a great outting with many fellow cyclists. It's amazing how many friends I have made out here in such a short time.
The event was held at Tennessee Pass in the high country of Colorado. Just north of Leadville, this is the location made famous by the 10th Mountain Division Army unit and is currently the home of Ski Cooper and the pine Tree Nordic Center. Check out my Camp Hale ride report for an actual MTB ride that took place here.
Since the dinner included use of the nordic center, I figured it was a good opportunity to try cross country skiing. After 10 minuted of fiddling around with the skis, I finally broke down and asked how to clip the boot in. Off I went. First thing I learned was that snow plowing didn't slow me down. My ass played brake for the entire excursion. I also could figure how to turn.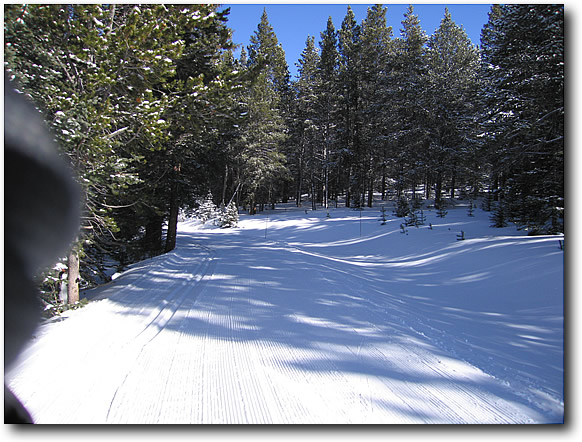 (continue reading…)
Comments Off

on Tennessee Pass
:
Skiing
more...